Somerville Town Center Gets OK for 5-Story Luxury Apartment Building on Main Street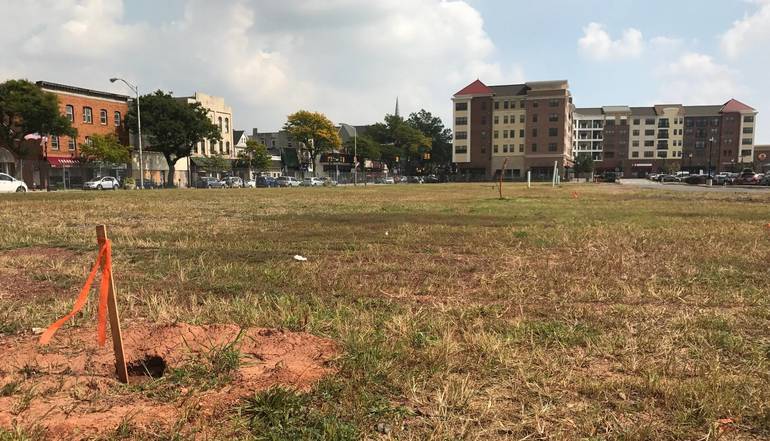 SOMERVILLE, NJ – Edgewood Properties, the developer of the Somerville Town Center luxury apartments on West Main Street, was given preliminary and final site plan approval by the borough Planning Board Wednesday night for a second five-story building with 153 luxury units and parking garage for 521 vehicles.
Ground breaking is expected mid- to late summer 2019, according to Colin Driver, the borough's director of Economic Development, once the developer secures the required permits from several local, county and state agencies.
The developer will then have to relocate existing underground utility lines before a concrete foundation can be poured. Construction of the parking garage will follow, after which the steel girders will be erected, according to Driver.
Construction of the parking garage is estimated to take one year, according to Driver, after which time the developer will begin erecting steel for the five-story Main building facing West Main Street. The third phase of construction will begin on the smaller building that will face South Doughty Street; the façade facing South Doughty Street has been designed to imitate early 20th-century brownstone buildings, according to Driver.
The mixed-use building will be bordered by South Davenport Street, Veterans Memorial Drive West and South Doughty Street.
The plan also calls for 41,407 square feet of retail space on the ground floor facing West Main Street; a 9,152 square foot restaurant with seating for 418 people; aan all-weather, four seasons food court; a 40,400 square foot fitness center and 6,325 square foot pool, according to Driver.
A parking lot will be built in the rear of the building, similar to the lot adjacent to the first building which is adjacent to the ShopRite supermarket. It will extend south to Veterans Memorial Drive.
Preliminary plans call for 153 one- and two-bedroom apartments on the four upper floors, with retail space on the ground floor, similar to the building on the east side of South Davenport Street that includes the Starbucks coffee shop and Wolfgang's Steakhouse.
The parking garage will feature 521 spaces, with 270 spaces exclusive to the tenants of both buildings; the remaining spaces will be available for public parking, helping to alleviate the shortage of parking in the downtown district. The structure will be integrated with the main 5-story apartment building facing West Main Street,  according to Driver.
Entry for residents will be off South Doughty Street; public access to the parking garage will be off of South Davenport Street, according to Driver. A portion of the garage will be below grade.
Once the parking garage is completed, and the parking lot behind Somerville Town Center is completed,  Edgewood Properties will have provided the borough with a total of 1.083 parking spaces, according to Driver, including those spaces adjacent to the first building and the ShopRite.