Garden State Park to open N.J.'s 1st standalone sports betting site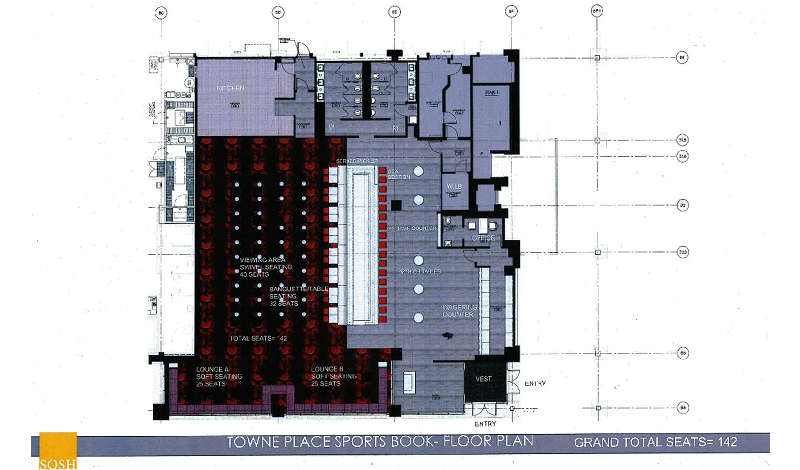 Real estate power duo Jack Morris and Joe Marino are opening the first standalone sports betting site in New Jersey at the former Garden State Park Racetrack in Cherry Hill, ROI-NJ has learned.
The facility could be open in the next 90 days.
The still-unnamed site will be located in the current Garden State Park community, where Morris' Edgewood Properties and Marino's Century 21 Construction have built out a dine-shop-live experience on 223 acres.
"It's a nice facility, it's very roomy," Morris said. "It gives us the ability to test the market. And, if it's a market where we have what I think will be thousands of people that will be coming here, we can enlarge it. We have plenty of space to do it."
The location is accessible by the major roadway of Route 73, and by train from the Cherry Hill station, which is a stop along the New Jersey Transit Atlantic City line.
The idea was born after sports betting became legal in the state.
"Former racetracks have the ability to have a sports betting facility, as long as its within the oval of what the racetrack is," Morris said. "Clearly, if you look at the plan, all of the property that's within the oval is owned and controlled by myself and Joe Marino."
The state's Division of Gaming Enforcement has been out to the site multiple times, Morris said, and a sports book operator will soon be selected.
Morris said the choice is down to two, one currently operating in the state and one that is not.
"All of them are in the business, some that we have talked to are in the business presently in New Jersey, and some are not," he said.
The hope is that the location, which is in an open-air mall, will attract casual bettors and serve as an entertainment destination.
"The property is not just a racetrack where people will want to go and just want to make a bet," Morris said, comparing the location to existing racetracks or the sports betting experience in Atlantic City.
The layout of the facility includes an entire wall of screens. Facing those screens in height order is a section of tables, followed by a long bar — with seating on both sides — followed by high tops. In total, the facility can seat 142 guests.
SOSH Architects was chosen to design the facility since it has experience, through the casino industry, with designing to the requirements of the DGE, Morris said.
It's a concept Morris hopes can go national.
"We are going to have great drinks and opportunity for people to come and socialize, this is not going to be a place where you just come and place your bets," Morris said.
"We are creating our own concept, and it's something I think we will end up building and creating where we can do this in other destination spots around the country."
Morris said he did not think the site will take away from Atlantic City's traffic.
Morris is one of the owners of the Hard Rock Hotel & Casino Atlantic City, which opened a sports book on Super Bowl Sunday. It is one of eight casinos in Atlantic City with sports betting.