Veterans 'Salute the dress' at wedding gown giveaway: 'I feel like I'm at Disney'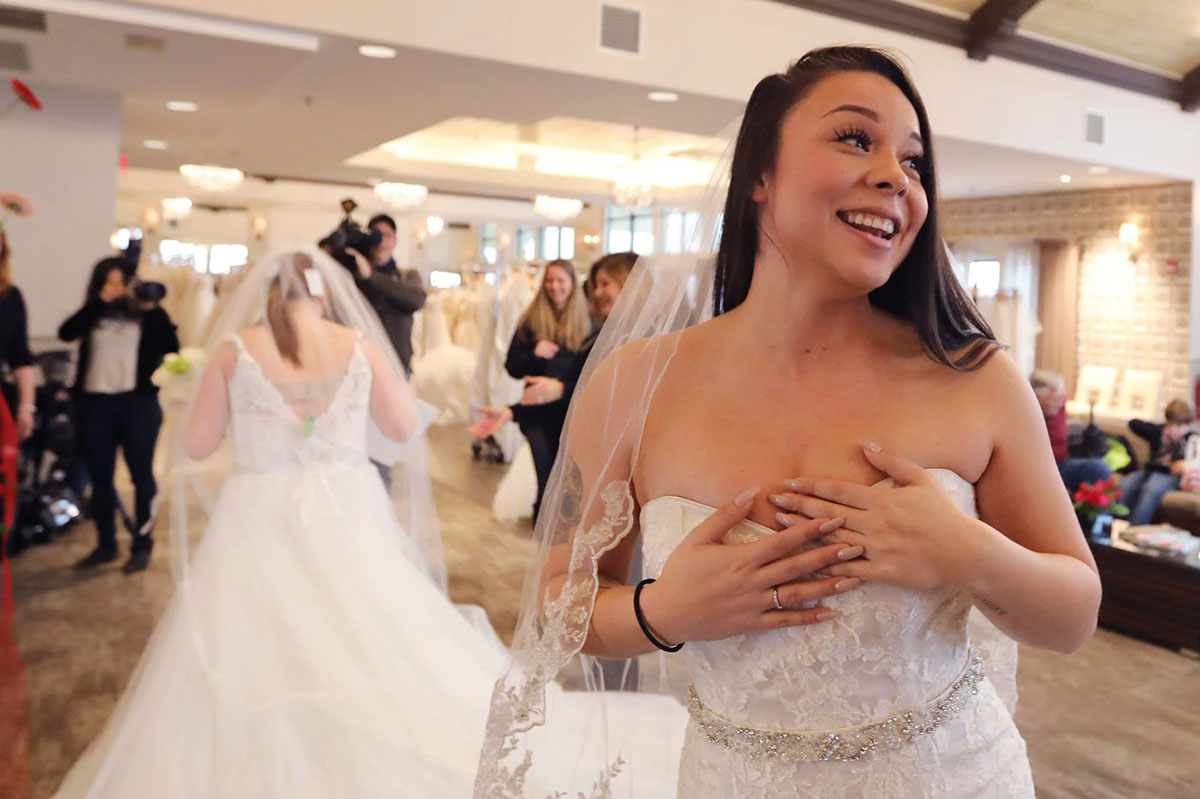 When Michele Mulholland got married in 2007, she went to Las Vegas and tied the knot with her sweetheart, Reid, wearing a dress that cost $99.
Twelve years later, the couple plan to redo their nuptials this fall on a much grander scale. She was among hundreds of veterans, spouses, and children who got a chance to say, "I saluted the dress," Tuesday at a wedding dress giveaway.
Camden County offered 500 wedding gowns and special occasion dresses to veterans. The gowns were donated to the county by M&M Realty Partners after Alfred Angelo Bridal abruptly shut down in June 2017, closing bridal salons including one in Cherry Hill. M&M, which manages the Cherry Hill property at the Garden State Park shopping center on Route 70, where the bridal shop was located, acquired the gowns in a bankruptcy settlement.
With tears and laughter during the all-day event at the county Boathouse along the Cooper River in Pennsauken, the women went through racks of wedding gowns. Each could select three to try on, with the assistance of a fashion consultant. The gowns originally ranged in price up to $10,000.
Mulholland, 41, of Brigantine, N.J., beamed as she stood on a pedestal and looked into a mirror while wearing a beaded strapless gown and a veil. Her husband is a disabled veteran and she wore his dog tags Tuesday, as she always does.
The county filled all 200 available slots for Tuesday and planned to open up 100 more on Wednesday to meet the demand. Requests have poured in from around the country, county spokesperson Dan Keashen said. Proof of veteran status must be provided.
"This is a small gesture," said William Moen, the Freeholder Board's military affairs liaison. "Their families have given us the ultimate sacrifice."
Those searching for gowns included a newlywed who got married Saturday before her husband deploys to Kuwait, and a bride-to-be who plans to wed on Valentine's Day in her newly acquired ballgown. Several plan to renew their vows and have their dream weddings.
"It's like a dream. I feel like I'm at Disney," said Rachel Dietrich, 22, of Somerdale.
Dietrich and her fiance, Ermes Rojas, 22, had scheduled their wedding date seven times, but their plans fell through because they couldn't afford it. Now, with a dress, the couple plan to be married Thursday at the Boathouse.
Rojas' uncle Hector Louis Ortiz Jr., 33, suffered from post traumatic stress disorder and died in 2012 while on active duty.
"It's so bittersweet," said Ortiz's sister, Solaida Santiago-Ramos of Somerdale, of the dress giveaway for her future daughter-in-law. "How do you choose between gratitude and grief?"
Nazel Custis, 54, of Camden, could not hold back the tears as she stood in a wedding gown, longing for her late mother and her sisters, who had to work. She plans to marry Levi Combs, a Navy veteran, at his son's church in July.
"The search is over. I found the right dress," Custis said, wiping tears with a black napkin. "God bless, I am happy."
Alfred Angelo was founded in Philadelphia in 1933. Brides were left in a lurch when the company closed all 60 of its stores. Analysts blamed its demise on online competition and a falling marriage rate.
The inventory remained in the Cherry Hill store for more than a year. M&M gave the gowns to the county with the stipulation that they be given to veterans. The county later moved the gowns to its airtight records and documents facility in Gloucester Township, where the dresses were stored in bags to keep them in pristine condition.
"We wanted to give back to the veterans and their families who have done so much for us and for our country," said Janice Birenbaum, asset manager for Garden State Park. "It was so wonderful to help them."
>>READ MORE: Brides left high and dry as Alfred Angelo closes all doors
Jennifer Klein, 42, of Waterford, was relieved to find the perfect gown on her first wedding dress outing. She selected the first gown she tried on.
"This is such a great thing. I couldn't see spending thousands of dollars on a dress," Klein said.
Besides wedding gowns, the brides were able to select accessories and veils. Leftover gowns will be donated to charity, Keashen said.
Constance Cotton, 52, of Voorhees, searched for a special occasion gown to celebrate her 20th anniversary in June with her husband, Stacey. The couple were married in the living room of their Philadelphia home. They had two children, and she retired from the military in 2004 with a medical discharge.
Cotton, who served nearly 17 years in the Army, was happy to meet comrades Tuesday. She runs a support group for female veterans.
"I'm so very grateful that they are doing something for women veterans," Cotton said. "It's bigger than this dress event."