Shake Shack, Trader Joe's, Costco and more coming to Cherry Hill's 'Golden Mile'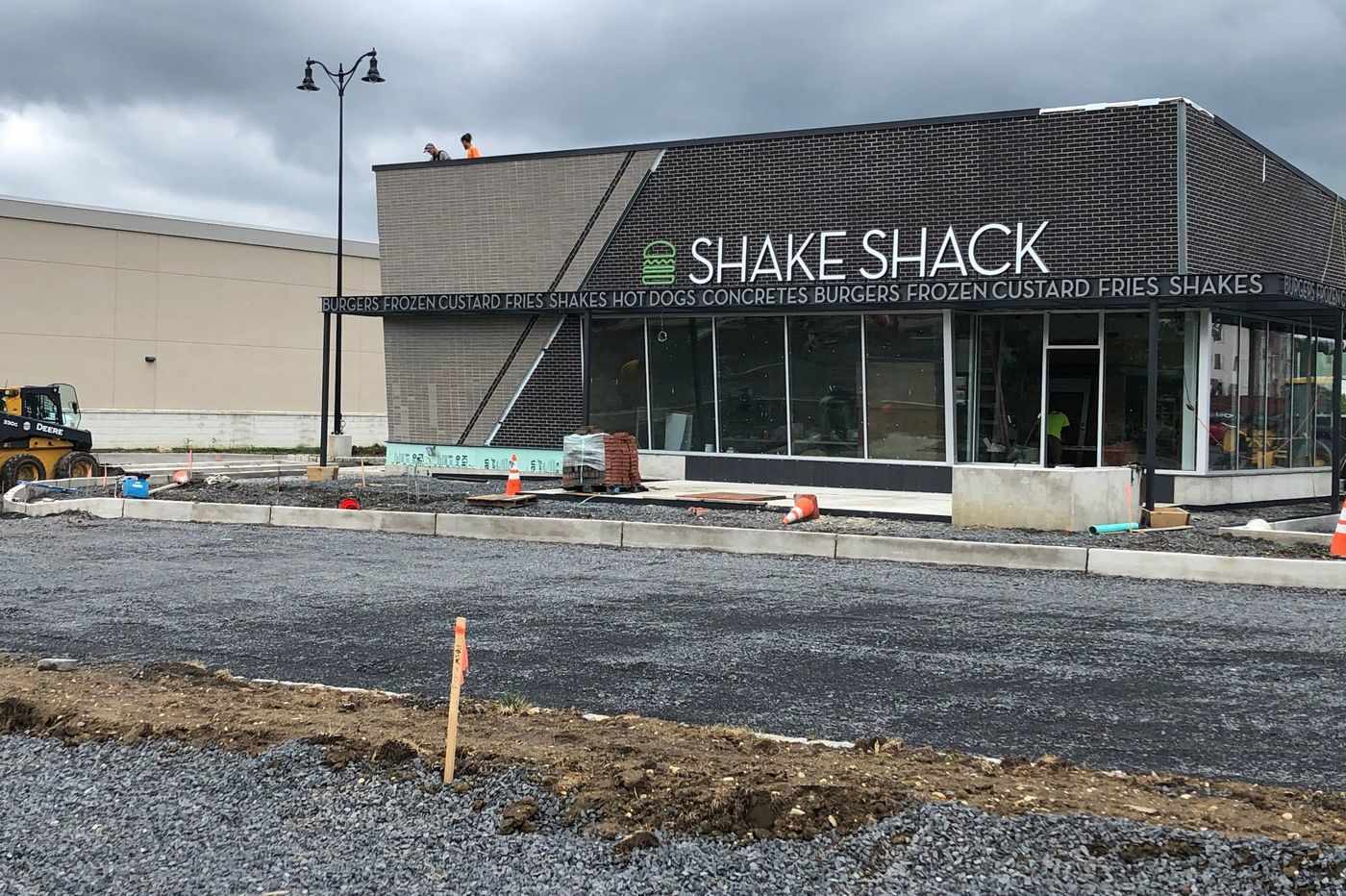 A Shake Shack is taking shape at Garden State Park, and more businesses are coming, including a Costco, in the latest expansion that will again drastically change the landscape of the bustling shopping complex in Cherry Hill.
The growing list of businesses approved for the site includes more than a dozen retailers, offices, and a sports bar that developers want to turn into a sports betting facility but first face a legal battle. Some have opened open, while others are under construction or will begin to be built in the coming months.
"It's an amazing retail location," said Mayor Chuck Cahn. "It truly is a destination."
When the latest phase is complete, customers will be able to buy gourmet burgers, frequent a discount warehouse, buy gas, get a tummy tuck or treatment for a sports injury, or take their pet to see a vet.
Some locals have dubbed the stretch from Cherry Hill Mall to Garden State Park the "Golden Mile." A developer last year completed a clubhouse and apartment buildings for those 55 and over. A Wawa is being built on the busy stretch of Haddonfield Road across from Garden State Park.
In a section known as the Shoppes at Garden State Plaza, crews are working on the Shake Shack, the hamburger and milkshake establishment. An August opening is expected, said John Taikina, director of real estate development for M&M Realty Partners, the main developer of the site.
Taikina said groundbreaking is expected next week on a 158,000-square-foot Costco near the entrance to the development on Route 70. The plan has been mired in controversy since 2012, when Costco asked to add a gas station. The owner of the ShopRite supermarket in the nearby Garden State Pavilions filed suit when the township changed the zoning ordinance to allow gas stations.
"It's taken a long time," Taikina said. The Costco is expected to open in 2020, he said.
ShopRite reached an undisclosed settlement with the big-box store developer to clear the way for the project to proceed, said Erin Gill, a township spokesperson. The warehouse store would be built near an existing Home Depot.
Jason Ravitz, owner of the ShopRite, declined to comment, saying, "Whatever happens next door happens." He said he wants to make sure that a connecting road planned to link the properties is built to allow customers to easily navigate both shopping centers.
Garden State Park could also soon be home to a sports betting venue. Plans by Cherry Hill Towne Center Partners LLC, an affiliate of Edgewood Properties which also owns M&M Realty, call for a sports book, bar, and restaurant in the center of the complex.
Despite a legal battle involving Garden State Park Racing, which owns a 10-acre portion of the 227-acre property and has laid claim to the sports betting license, Cherry Hill Towne Center wants the license, too, and has started clearing the site.
Garden State Park Racing, the racetrack's former owner, says it holds a covenant obtained in 1999 before the racetrack closed that gives it exclusive rights to any gambling operation at the site. Cherry Hill Towne Center, however, believes the covenant is invalid and filed a lawsuit last August to block its enforcement. The matter is pending in federal court.
In addition to Trader Joe's, a grocery chain with a location in nearby Marlton, other additions include TJ Maxx and HomeGoods stores, all expected to open in 2020. That patch had previously been designated for townhouses, but now will include about 81,000 square feet of retailers.
Among those not happy with the expansion is longtime resident Dan Cirucci, who lives across the street in the Plaza Grande condominiums at Garden State Park. He worries about congestion.
"We were told that this would be condos," Cirucci said. "We're very concerned about the traffic that is going to be dumped out here."
Among the other new tenants are Duluth Trading, expected to break ground next week; Playa Bowls, an eatery; an Althleta women's yoga clothing store; and Sono Bello cosmetic surgeon, Gill said.
"Everyone wants to be there," Taikina said. "It's the preeminent South Jersey shopping spot."
The additions would largely complete M&M's retail footprint of the shopping complex, with several projects pending, Taikina said. A hotel may be built in the Towne Center, he said. Based in Piscataway, M&M Realty, is part of a conglomerate that has real estate and commercial properties in New Jersey, California, and Florida.
The shopping plaza rose on the site of the old Garden State Park racetrack that closed in 2001 and remained vacant for several years. Back then, there were high hopes that the parcel would provide a spot for a downtown for Cherry Hill. There were ambitious plans for a walkable community of residences, shop-lined main streets, office space, and lush parks.
Those hopes were dashed with new developers, several plan revisions, and the crippling recession in 2008. When the economy rebounded, Cherry Hill's road system, with access to major South Jersey roadways and a population with a healthy disposable income, made the area desirable for developers.
Elsewhere in Cherry Hill, construction crews are now clearing another site on Route 38 where German-based supermarket chain Lidl plans to build a store that offers discount organic food, among other things. The site is off Cuthbert Boulevard, near the Walmart shopping center.
Meanwhile, on Route 70, Cahn said there has been interest in the site of the former headquarters of Subaru of America, which moved to Camden. The seven-story building was recently demolished.
Cahn said township officials would welcome "anything but residential" on the site. Possibilities include more retail shops or a car dealership, he said.
"There's more to come," said Cahn. "Cherry Hill has transformed itself into a regional hub."