Developer Who Will Donate Land for Replacement School Known For Business Mind, Charitable Heart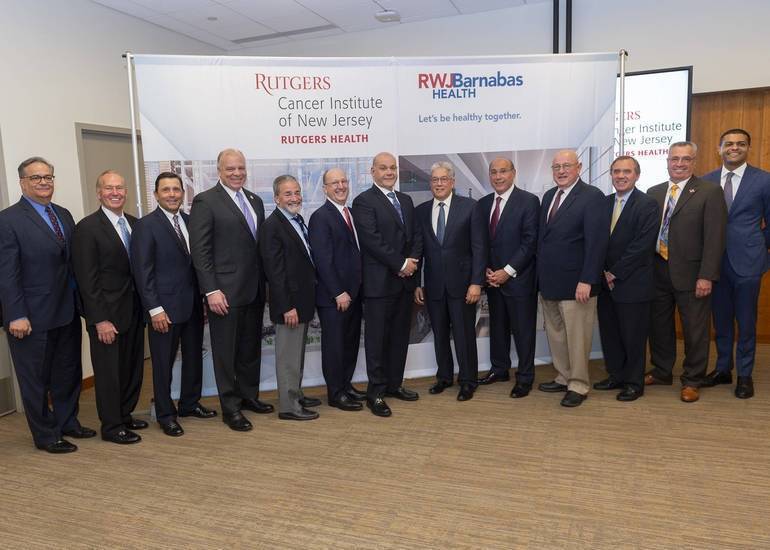 NEW BRUNSWICK, NJ – Jack Morris has been described as a shrewd businessman and a tireless worker who started his multimillion-dollar real estate empire at 18 when he borrowed money from his grandfather to buy a bulldozer to build his first house.
Others who know him well talk about his soft spot for military veterans and children.
Checkbooks and charity work – the two sides of Morris merged earlier this month when it was announced that the developer was going to donate the 4.5-acre tract of land on Jersey Avenue to be the home to a state-of-the-art, three-story public school.
Those who know the developer best say they aren't surprised he donated the land, even though three real estate experts told TAPinto New Brunswick that the land could have sold on the market for $3 million to $5 million.
"He's one of the most philanthropic people I've ever met, that's for sure, whether it's the Make-A-Wish Foundation, whether it's countless charities, what he's done for the hospital (Robert Wood Johnson University Hospital) and the hospital's foundation," said Bob Zito, a fellow board member. "He has given and raised a lot of money for the entities that he's involved in. And, as he said before, he's in a fortunate place and God's given him the ability to do that. So, he'll do it. I've known him for 15 years and I've heard him say that regularly."
Procuring the land on Jersey Avenue was one of the crucial final steps to making a sweeping development plan become a reality.
Lincoln Annex School will be razed and the New Brunswick Development Corporation, the city's private development firm, will construct New Jersey's first free-standing cancer hospital in its place.
As part of the $750 million plan, RWJ Barnabas has agreed to foot the bill to construct a replacement school. A steering committee consisting of Lincoln Annex parents and faculty members as well as school district administrators identified 50 Jersey Ave. for the site of the new school.
Morris' development corporation originally received approval for mixed-use construction on the site.
It isn't clear if there would have been a conflict of interest if Morris had tried to sell the land to DEVCO or RWJBarnabas, considering he is the chair of the Board of Trustees at the hospital. Either way, it seems the thought never entered his mind.
"I think when Jack saw that the community, the school board, the site selection committee, the parents had recommended his site, the first thing Jack said to me was, 'Let's just get this done. I want to get the school built,'" DEVCO President Chris Paladino said. "He respects what the school board has done with making the former static site available. He said, 'What can I do to help? I want to get this done.'
"We never talked about money. He said, 'I'm going to donate this and it lets me make a contribution to a passion project of mine.' That being the Rutgers Cancer Institute Pavilion. But also to do something truly important for the young people of New Brunswick. There was not a second thought. He said, 'I'm doing this. Let's get it done.'"
Morris, the founder, CEO and president of Piscataway-based Edgewood Properties, has made left an indelible mark on New Brunswick, Somerville and Brick – to a name a few municipalities.
He made headlines in 2018 when he joined forces with fellow major developer Joseph Jingoli on a $500 million renovation of the former Trump Taj Mahal and opened Hard Rock Hotel & Casino Atlantic City.
He was also the driving force behind the project to turn the site of the shuttered Garden State Park Raceway in Cherry Hill into a sprawling, high-end, mixed-use development called Market Place and Towne Place at Garden State Park.
But even as his business – and his fortunes – have grown, Morris has remained committed to charity and philanthropy.
In 2019, Morris sent a letter to the renters of his 3,000 or so multifamily properties, saying the company was going defer any rent payments to its federal employees that were being affected by the shutdown of the federal government." I think he's committed to the community in terms of the betterment of the community and that he has been, I think, focused on health care," said Dr. Steven Libutti, the Director of the Rutgers Cancer Institute of New Jersey. "But, I think it goes beyond health care. I think he embraces the notion that, for health care to be effective, you need a healthy community and that means the community needs good jobs, good schools, things like that.
"And I've been struck by the fact that he's not someone who looks for credit or accolades. He's just seems to be someone who's very dedicated to doing what he can to better the community that he lives in."
Morris didn't respond to repeated requests to speak with TAPinto New Brunswick.
The land at 50 Jersey Ave. is in need of remediation. The school is expected to take about three years to build. Lincoln Annex will be razed and construction on the Cancer Pavilion is expected to start late September or early October.