For Edgewood Properties, 30 years of building — and giving back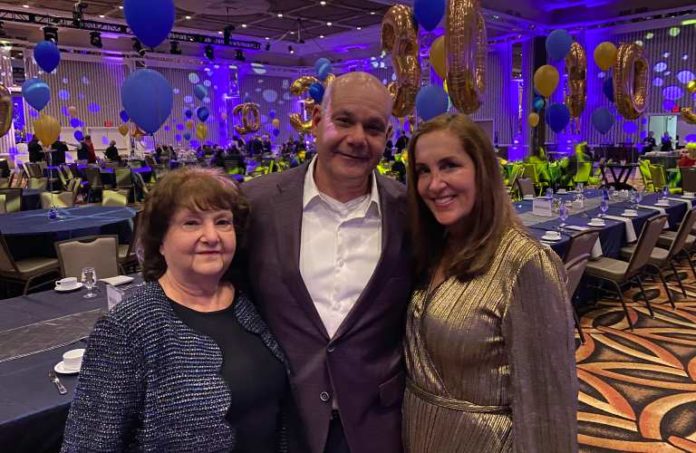 Three ballrooms, approximately two dozen bars and food stations, more than 50 tables, nearly 1,000 guests — and not a single speech.
It was classic Jack Morris.
When Morris brought a group of his closest friends, colleagues and employees together on Saturday night to celebrate the 30th anniversary of Edgewood Properties — still one of the fastest-growing development companies on the East Coast — he made sure it was about everyone but himself.
No talk about how Edgewood and its affiliate companies have grown from being a builder of single-family homes to one that now owns and operates a portfolio of approximately 150 commercial and multifamily properties worth more than $5 billion, predominately in New Jersey, but also in five other states, including Florida and California.
No talk of how Morris is the co-owner of the Hard Rock Hotel & Casino Atlantic City, where the event was held, or the substantial holdings he has with M&M Realty Partners, including a plan to transform the former Garden State Park in Cherry Hill into a 220-acre mixed-use site.
No talk of his enormous involvement with health care systems throughout the state — he is the founding chair of RWJBarnabas Health, among his involvement with other entities.
No talk of the massive amount of philanthropy Morris has done over the years, both publicly and — as he prefers — privately.
"This isn't about me," Morris said. "To be here tonight and see all of our employees truly enjoying themselves, coming out of a pandemic, is moving for me and for my family. So much of the success of Edgewood is because of all of these employees.
"And we all owe a debt of gratitude to all the health care workers and first responders. I'm so glad so many of them were able to come tonight; they truly deserve to be recognized for all that they have done."
Morris briefly gave himself a chance to put Edgewood Properties in perspective.
"To be able to get to where we are today — and from such humble beginnings — is a dream story," he said. "I am living the American dream."
It would be easy to understand if Morris had not been to some of the properties that are a part of Edgewood. Or if he didn't even know where some of them are.
But, if you think that, you don't know Jack Morris.
Morris treats each of his properties the way he did his first — the houses he built on the two lots he purchased from his maternal grandfather in the '80s.
"I go to every property, every construction site," he said. "From the minute we buy a piece of ground, whether it's the layout, the designs, the approval, I am involved in every step, right down through the landscaping.
"What we build, we want to own for generations."
It is this hands-on approach that has made Morris known for being more than a developer who builds housing. Instead, he's seen as one who builds communities, such as in Somerville, where he almost single-handedly has revitalized the town.
From workforce housing for the middle class to housing for veterans, Morris said he always is thinking of those who are in the communities where he is building. Surprisingly, this commitment is not always welcomed.
At times, it has put him at odds with local communities worried about the impact of commercial development and the influx of affordable housing.
Morris doesn't shy away from a discussion. To him, his projects are about creating a steppingstone for others to pursue their American dream. There is no debate.
Morris always has seen housing as the basic need that it is.
He views affordable housing as workforce housing. That's why it always has been a priority. He says it fills the most important need of a community. And he doesn't understand why others don't feel the same way.
"Affordable housing is housing for people who live in the community and work in the community," Morris said. "If you look in your town, what do you think the person working in the local restaurant is making, or the police officer, or the teacher?
"They need affordable housing to be able to live in or near the town they work in."
The same goes for veterans. Morris has never shied away from his commitment to provide a place to live for those who serve or have served.
"They are people who fought for this country," he said. "I didn't have to serve because others stepped up. I don't take that for granted. I want to give back to them."
He does in many ways.
During the shutdown of the federal government in January 2019, Morris made national news when he deferred rent for all federal employees living in any of the units Edgewood owns (more than 3,500 in New Jersey alone).
And, when he opened the Edge in Freehold later that year, Morris said veterans would have the first opportunity to lease any of the 209 affordable and market-rate units.
"They should be first in line," he said at the time. "They should get preference."
Morris said it's a way to help those who otherwise can be invisible to the general public.
"I'm not one who likes to stand up in front of the camera or a microphone, but, if it helps the men and women who fought for this country and gave us the freedom that we have, then I'll do it."
The commitment that Morris and Edgewood Properties have shown to the community and individuals does not start and stop with real estate.
Morris is an ardent supporter of many charitable organizations, including Make A Wish Foundation of New Jersey — to which he donated more than 14 acres and oversaw the development of its headquarters in Monroe.
He has been honored by Spectrum for Living, an organization dedicated to improving the lives of multiply handicapped people. He has been saluted by the New Jersey Policemen's Benevolent Association. He has received the Dr. Martin Luther King Jr. Service Award.
He just doesn't like to talk about it.
"I always say, 'Actions speak louder than words,'" he said. "I do believe we are put on this Earth for different reasons. I feel like God gave me the ability to take on difficult projects, and I want to use what he gave me to the fullest extent, to help people."
His commitment to philanthropy was never greater than last summer, when he and his wife made a substantial contribution to help fund what will be called the Jack and Sheryl Morris Cancer Center, a 12-story, 500,000-square-foot, state-of-the-art cancer center that will be part of the Rutgers Cancer Institute of New Jersey.
"There is nothing that feels better or more gratifying than helping others in need," Morris said at the time. "Cancer touches the lives of everyone — and we believe that people should not have to travel to New York or Pennsylvania to get great cancer care.
"It has been our vision, our hope and our dream to have the top cancer center in the nation right here in New Brunswick. Sheryl and I are so proud that we can play a role in helping to make this dream a reality."
Morris, the founding chair of RWJBarnabas Health, also serves as chairman of Robert Wood Johnson University Hospital and has served as a board member of the Robert Wood Johnson University Hospital Foundation.
Morris isn't one for accolades. And he doesn't seek the spotlight.
Getting repeated shoutouts from his friend, Pitbull — yes, a Saturday night concert at the Hard Rock doubled as being a corporate event — was nice but not necessary.
While he was happy to celebrate the anniversary of Edgewood Properties with so many people that have helped make it possible, he joked beforehand that he would be more comfortable in a room with just a few people.
Perhaps just his wife and two daughters.
Morris feels Sheryl Weingarten Morris, who helped him found Edgewood and serves as the organization's chief counsel, has been an equal partner since Day One.
Morris calls Sheryl Morris "the best decision I ever made."
Together, they go on long walks discussing potential projects they believe will not only be financially successful, but can also make a difference for their employees and the communities where they live.
"She's the woman that makes it all happen, and has been for 30 years," he said. "She's amazing. She has driven me from the start and continues to drive me every single day.
"She always reminds me of our values. And, sometimes, when I get a little off the rails, she is the one who brings me back. She's been an amazing partner through all of this."
The couple is celebrating their 30th wedding anniversary this year.
That, Morris said, will be a low-key affair, one where he and Sheryl can reflect on all that they have accomplished.
Saturday night was about recognizing so many people who have helped them on their journey.
Morris, as he surveyed the room and exchanged personal words with so many of his guests, tried to put the event into words.
"It's been an incredible 30 years," he said. "I'm looking forward to the next 30."